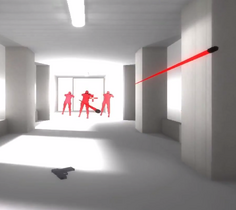 Bullets are fired from
guns
. A single bullet instantly kills whatever it hits, including 
the player
. While moving, bullets leave a bright red trail behind them. Bullets will shatter on impact, breaking any glass they hit. A bullet fired by an enemy will not damage any enemy that it hits (Prototype only).
In the beta release, bullets are capable of damaging and breaking any physical entities they come in contact with, such as the player, enemies, weapons, throwables, and even other bullets. A bullet may also be stopped by the shattered remains of a deceased enemy or the remains of a broken weapon/item.
Currently, the only real way to deflect a bullet in mid-air is to use the Katana to slice it while it travels. However, bullets can be deflected simply by clicking on them while bare-handed. This is most likely a bug.
Ad blocker interference detected!
Wikia is a free-to-use site that makes money from advertising. We have a modified experience for viewers using ad blockers

Wikia is not accessible if you've made further modifications. Remove the custom ad blocker rule(s) and the page will load as expected.